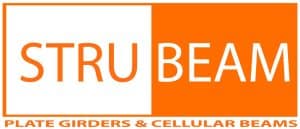 an independent business unit of J&D Pierce (Contracts) Ltd – was launched in August 2016 to supply the UK constructional steelwork market with cellular beams, plate girders and bridge beams, as well as heavy tailored fabrications and plunge columns.
About us
The UK and Ireland have witnessed year-on-year increased demand for plated sections in the structural steel, rail, marine and bridge sectors, therefore we invested heavily in purpose-built facilities, state of the art plasma and oxy profiling equipment, modern submerged arc semi-automatic T&I welding technology and cutting & drilling machines to service this market.
From the outset, we committed to developing and launching to market, our own bespoke design software to Steel Construction Institute (SCI) P355 Design of Composite Beams with Large Web Openings. We achieved SCI "Assessed" status in September 2018, we are delighted with this attainment, it validates our efforts and our continued commitment to the constructional steelwork industry.
We are proud of our professional and trained personnel; they enable us to design, procure, manufacture, fabricate, paint, and deliver quality products to the highest standard possible – Execution Class 4.
We commit to excellent values in our customer care, high standards of communication and projects/operational management to plan, execute and deliver on our committed work packages.
Products
Cell beams
As with plate girders, we can provide the design, production and delivery of cellular plate girders in varying sizes up to 2.7m deep to suit client requirements, along with full fabrication including the production of fittings on our fully automated CNC controlled Voortman twin bed profiling and drilling machine.
Plate Girders
Here at STRUBEAM, we can provide the design, production and delivery of plate girders in varying sizes up to 2.7m deep to suit client requirements.
Bespoke Fabrications
Our skilled staff mean we can offer clients bespoke production and fabrication of fittings and connections to client specifications.
Large and high fabrication bays with two 25T EOT cranes allow the assembly of complicated and expansive members, and a 3D structure can be fully assembled to ensure site fit up and then dismantled to size for transport requirements.
Bridgework, Plunge Columns , Trusses and Carousels are also within our scope of works.
Machinery
Voortman 304 Cutting Machine
This is a plasma gas profile cutting machine which has a 24m long bed suitable for cutting long plates up to 19m. It can plasma cut up to 80mm thick and gas up to 200mm thick, with four gas heads and one plasma torch.
2x T&I Machines
One of our T&I machines is capable of manufacturing beams 2.7m x 1200mm wide. Our other one can manufacture beams 2.5m x 1m wide. The T&I machines have the capability of 100mm flanges and 50mm webs, as well as welding in cambers of up to 40mm.
Ficep Endeavour Cut & Drill Line
The Cut & Drill Line is capable of cutting beams up to 1016 x 305 wide. It also able to scribe and bevel cut at 45/60 degrees, as well as milling slots and access holes.
Kaltenbach Saw
This manually operated saw can cut beams up to 1200mm wide, and is also be used to cut camber beams to length after manufacture.
To Come Cambering line/Press
This machine is used for correcting, or adding additional camber to carcass beams.
Cranes
Allowing fabrication to be transported around our purpose built 105,000 sq. ft facility, we have multiple EOT (electronic overhead travelling) cranes ranging from 5t to 25t with a lifting capacity of 50t.
2x 25t cranes
3x 10t cranes
2x 5T cranes
Manufacturing Operations
Our two manufacturing facilities span 315,000 and 300,000 sq. ft and allow for the manufacture of well over 1,000t of steelwork per week.
We operate fully automated CNC cut and drill lines, robotic coping lines, plasma cutting, and drilling lines for plates and fittings.
Fabrication operations are supported by MIG welding and fabrication stations.
Heavy lifting is provided by thirteen linked overhead cranes.
The business operates a just-in-time 'pull' system for stock inventory manufacturing to phased construction deliveries. Within the main production facility we use bar coding and RFI technology to monitor and control quality and supply. This allows us to track fabrication for our clients.
Painting & Shot-Blasting
Our paintshop facilities span 48,000 sq. ft.
Our team manage and control volume fabricated steelwork on a continuous flow system, delivering shot-blasted and painted products to our CE marking compliance standards.
All products are then allocated to specific drying areas prior to transport to site. Large volumes of intumescent are easily handled and stored, along with other specialist paint systems. All operations here are quality controlled.
Steel is prepared by either pre-blasting and/or priming, where large members are pre-constructed before final assembly. All members are blasted in our automatic blast facility which is capable of managing parts up to 2m high and 2.5m wide.
Transport & Plant
We deliver to sites and erect structural steelwork around the country using our own J & D Pierce fleet, equipment and plants.
For more information on our Transport Division, click here.
Our continued investment in equipment and training ensures that our fleet and plant equipment are dependable resources for clients, available nationwide for projects of all sizes.
In our CITB/IPAF+ Accredited Training Centre, offering NVQ/SQA courses for external businesses, we can arrange training course(s) for your operatives. Please click here to contact our Training Division