Structural Steelwork
J & D Pierce's fully in-house, integrated Structural Steelwork service comprises of design and drawing, fabrication, shot-blasting and painting, to transportation and erection of main frames.
We simultaneously design and erect proprietary cold rolled cladding support systems.
We can additionally provide an effective collaborative supply chain for:
Factory applied structural steel coatings
Metal Decking
Pre-cast concrete floor planks, stairs and landings
Estimating & Planning
We offer early procurement and costing advice on all aspects of project development.
Using our vast project experience, we manage client risk and develop an optimum project design, delivering transparency, and competitive pricing.
This ensures cost and design are fully developed at an early stage, while actively managing procurement, design and construction planning.
Whether you are planning a project design or looking to market-test project viability, our Estimating department can provide rates, budget costing and client bills to full estimating service.
You can contact the Estimating department directly at estimating@jdpierce.co.uk
Design & Drawing
Our Drawing Office experts offer a full design and build service, embracing value engineering, cost planning and material procurement to optimise design and reduce client costs.
Our 28,000 sq. ft offices, adjacent to our 315,000 sq. ft production facilities, enable us to work collaboratively and efficiently from project inception to project delivery.
 We have recently started production in another 300,000 sq. ft fabrication facility, focusing on the design and production of plated structural products, the main focus of this facility is Bridge Fabrication & Structural Steelwork.
Our Drawing office benefits from integrated design and BIM (Building Information Modelling) systems, including the Tekla 3D modelling system, allowing us to provide a complete 3D model of any structure. Tekla further enables us to collaborate and share detailed information between the client, our procurement team, and production team throughout our phased manufacturing 'just-in-time' system. Our CAD stations are fully equipped with the latest AutoCAD Version. Individual component drawings are automatically produced from computer generated data and shared live with our procurement and CNC production teams.
Value Engineering
Our design operations are carried out in-house by Chartered Engineers under comprehensive PI insurance, offering clients high levels of experience and full protection. As well as providing a complete design service, J & D Pierce can also add value to existing designs.
Our experienced input on contracts comes irrespective of time of initial engagement. This experience allows us to focus on solutions which will maintain performance cost effectively, mainting our high standard of quality.
As well as steelwork, we provide solutions for various component parts of both structures and envelopes. This means our teams are optimally equipped to meet the challenges clients face at both interfacing and the interaction of different materials. The flow through design development with J & D Pierce continues to impress clients and stakeholders – this is down to the importance we place on  both respective tolerances, and the end product.
Our early design meetings will allow us to merge into the existing team, with the key being mutual respect and trust as we strive for the common goal.  J & D Pierce are professional designers, yet also contractors, therefore knowing the minutiae involved to produce the end product within tolerance allows us to minimise cost and programme risk, and maximise quality.
Manufacturing Operations
Our two manufacturing facilities span 315,000 and 300,000 sq. ft and allow for the manufacture of well over 1,000t of steelwork per week.
We operate fully automated CNC cut and drill lines, robotic coping lines, plasma cutting, and drilling lines for plates and fittings.
Fabrication operations are supported by MIG welding and fabrication stations.
Heavy lifting is provided by thirteen linked overhead cranes.
The business operates a just-in-time 'pull' system for stock inventory manufacturing to phased construction deliveries. Within the main production facility we use bar coding and RFI technology to monitor and control quality and supply. This allows us to track fabrication for our clients.
Painting & Shot-Blasting
Our paintshop facilities span 48,000 sq. ft.
Our team manage and control volume fabricated steelwork on a continuous flow system, delivering shot-blasted and painted products to our CE marking compliance standards.
All products are then allocated to specific drying areas prior to transport to site. Large volumes of intumescent are easily handled and stored, along with other specialist paint systems. All operations here are quality controlled.
Steel is prepared by either pre-blasting and/or priming, where large members are pre-constructed before final assembly. All members are blasted in our automatic blast facility which is capable of managing parts up to 2m high and 2.5m wide.
Transport & Plant
We deliver to sites and erect structural steelwork around the country using our own J & D Pierce fleet, equipment and plant.
For more information on our Transport Division, click here.
Our continued investment in equipment and training ensures that our fleet and plant equipment are dependable resources for clients, available nationwide for projects of all sizes.
In our CITB/IPAF+ Accredited Training Centre, offering NVQ/SQA courses for external businesses, we can arrange training course(s) for your operatives. Please click here to contact our Training Division
Erection Operations
J & D Pierce are the leading benchmark for our sector due to our completion times combined with safe working and adaptability to design changes. Thanks to our industry-renowned 40 years' experience of site operations, we provide clients with the safest, most reliable erection service on-programme and on-budget.
We train, manage and control our resources, continually improving our high standards. We have leading credentials including:
All management with NVQ/SVQ Level 4-5 certification in construction management, alongside vast site experience
All site supervisors with SMSTS 5-Day management accreditation + Gold Card supervisory status
All operation staff with NVQ/SVQ Level 3 in Constructing Capital Plant Steel Structures (Erecting) + on-site assessment and training (OSAT)
All erectors with CSCS cards (Construction Skills Certification Scheme)
12 appointed persons for lifting operations
On site, J & D Pierce offer a combined edge protection package using proprietary CombiSafe edge protection, reducing the risk from working at height. For more information, click here for our Safety Netting and Edge Protection division.
We deploy, erect, accelerate and vary works to meet client changes however big or small, collaborating with our Estimating and Drawing office resources.
Cold Rolled Purlins & Rail Systems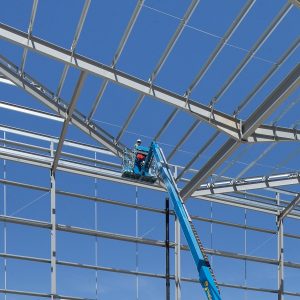 We procure and fit proprietary cold rolled systems, often specified by the structural engineer or architect. We offer an experienced design service to rationalise and review cold rolled system design.
Precast Slabs & Stairs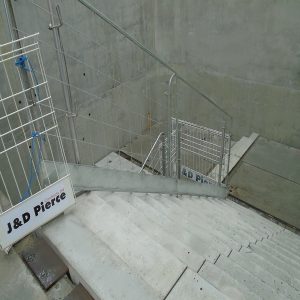 We supply and install precast flooring and stairs, along with supporting steelwork. Alternatively, we can provide a lifting and locating service, using our own cranes in conjunction with the supply-only package.
Metal Decking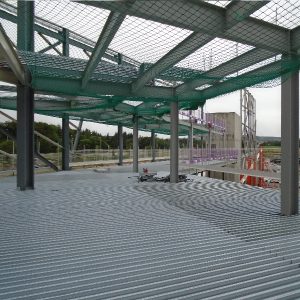 We provide the design and installation of metal decking solutions. Placing deck on site, we can also install deck shear studding within our overall steel package role. The client benefits from both the integrated steel and decking co-ordination, drawing and site co-ordination, with the option to undertake value engineering of the overall floor or beam design.
Safety Netting & Edge Protection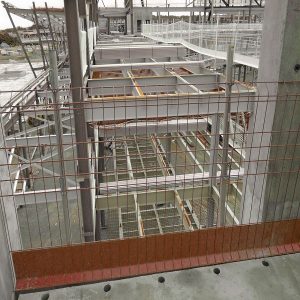 We supply, install and manage proprietary edge protection systems, safety netting, mansafe lines & HAKi stair access towers reducing the risk of working at height, with either the steel or decking/precast concrete packages. For information, click here for our Safety Netting and Edge Protection division