Midway Park

Gatwick Airport

Olympic Stadium, London
1 West Regent Street

Midway Park

Gatwick Airport

Olympic Stadium, London

1 West Regent Street, Glasgow
Structural Steelwork Fabrication and Erection
J & D Pierce is the country's foremost structural steelwork contractor.
We specialise in the design, fabrication, painting and site erection of structural steelwork, working with some of the largest construction projects in the UK for over 40 years.
In this time, we have acquired a reputation for innovation. We offer a complete in-house vertical service with advisory roles in design and project planning. Managing all operations from pre-construction to erection, with over 615,000 sq ft across 2 state-of-the-art production facilities, we provide our clients with unrivalled resource, quality and the adaptability expected in today's competitive, changing industry.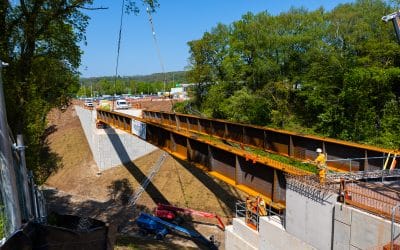 The new Velindre Hospital access Bridge is a single span composite ladder beam type plate girder bridge structure made from Weathering Grade steel plate, The new bridge is required to provide a new access road from the north, off Longwood Drive and to the proposed new Velindre Cancer Centre (nVCC) located approximately 250m north west of the existing VCC.
read more